Each potential member of Merryfield Village's staff shares a heart for the children and exemplifies the very heartbeat of Merryfield's vision and mission. With a passion for God and desire for kingdom excellence, the village is lead by a God-appointed team.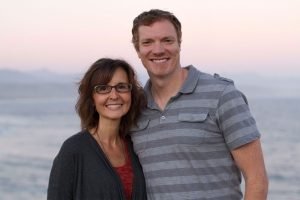 Steve, Julie, and their children have served a decade overseas as missionaries.  They moved to South Africa in August 2014. They served initially in Europe for 8 1/2 years, where early in their marriage they served in Vinnitsa, Ukraine. They went on to join a missions organization in 2005, serving their last 7 years on the mission field in Prague, Czech Republic, and Vienna, Austria before the Lord led them back to the states for a time of refreshing and seeking more in their relationship with Christ. In 2012 they resigned from the comfort of a salaried position with their missions organization, where they had full benefits, paid education for their children and stepped out on faith and went back to the states with nothing but a promise from the Lord that He would reveal His plan and take care of them. Stephen was offered a wonderful opportunity to work for Liberty University while the Lord did a work in both their lives. Steve and Julie were both on a similar journey during those two years that led them to feel empowered to head to South Africa, utilizing the gifts and power of the Holy Spirit in a whole new way. Their prayer is to be used in such a way to see Heaven invading earth and to touch as many people's lives with the ever-changing love of the gospel and to see the power of the Holy Spirit displayed to the lost and needy. See their entire testimony in the History section.
---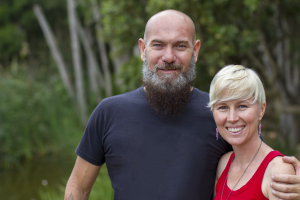 Shaun and Levonne join us from Pretoria, South Africa. Shaun brings 15+ years of experience running his own construction company to Merryfield to start Merryfield Construction once the land is purchased. The construction company will not only help with the building of our village but also take on local projects to assist in financially sustaining Merryfield and also provide more local jobs. Shaun also has been trading ostriches since 2017 and will be setting up an ostrich farm once Merryfield acquires its property. Ostriches offer lean, highly nutritious meat for our children and again this business will provide income to the village and employment opportunities. Levonne has a gifting and calling to teach and preach. She currently homeschools their two children and works as an estate agent in Jeffreys Bay. Her heart is to see people set free and uplifted by the power of the gospel and spread the love of God by meeting the needs of people young and old.
---
Tertius was born in Belfast, Mpumalanga, grew up in Lydenburg, Potchefstroom and Johannesburg, South Africa and is Merryfield Village's Equine Manager. He has roughly ten years experience working with a multitude of horses, rescued, abused and performing horses and is helping us develop our horse therapy program. Horse therapy is a proven tool for helping children through their process of healing from traumatic situations and experiences. Horse riding can also help individuals with hypertension or ADD as studies demonstrate that stretching the Achilles tendon helps to alleviate symptoms associated with these illnesses. Also, Tertius will help us start an equestrian center that will provide teaching the fundamentals of horse riding, care, etc. as well as offer daily and overnight riding experiences for visitors. The Equestrian center will also function as a base camp for horse rehabilitation and adoption programs for rescued horses.
Merryfield Village is looking forward to three new team members, who are raising support, waiting for visa's and preparing to join us within the next 6 months to a year.