A merry heart does good, like medicine … Proverbs 17:22 (NKJV)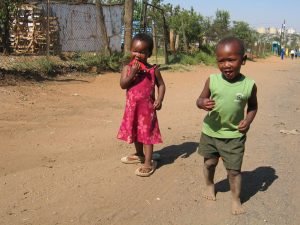 It is estimated there are over 5 million orphans located in South Africa due to AIDs, disease, poverty, and drug abuse. By focusing on the orphaned population, we believe God can change not only the lives of these children but impact the future of a nation.
Merryfield Village exists to care for orphaned, vulnerable and special needs children by raising each unique child in loving, Christ-centered homes to be inspiring and influential leaders of South Africa and the world.
Founded on Christian faith in South Africa, Merryfield Village seeks to accomplish its vision in a two-fold manner. First, by pursuing the registration of a cluster foster care scheme that provides a place of belonging for each child entering its doors and secondly, by coming alongside other like-minded ministries that are also reaching out to orphaned and vulnerable children.
Modeled after LIV Village a children's village outside of Durban, each cottage will be a home to 6 children and a house mother or set of house parents. Merryfield Village desires to help as many children as possible and may include a small school, clinic, chapel, skills and vocational training, and horse therapy among other things on a working farm with an open campus. Living on a farm provides opportunities for the children to learn inside and outside the home. Playing together on the sports field, playground, working alongside the staff in the gardens, and helping take care of the animals will give a place for the children to learn things like teamwork, diligence, and responsibility.
Along with outside contributions, Merryfield desires to start several businesses that will help sustain the village by feeding the children and providing financial support for daily operations. Several tunnels (greenhouses) will be designated for aquaponic farming. The produce and fish will be used for the village as well as sold in the local marketplace. Merryfield has earmarked several more potential businesses; honey, cheese, poultry, and furniture that will benefit both the children and those in the Eastern Cape.
Merryfield Village will require adequate staff to fulfill the commission, from groundskeepers, maintenance workers, to caretakers. It will positively impact the surrounding community by providing employment, training, and products to sell in the market. We are looking to partner with a local ministry to provide skills training courses for both our children and locals needed for job acquisition and job advancement.
Merryfield Village directors and staff carry a vision to see hearts revived, minds renewed and leaders released through selflessly loving and caring for children of South Africa.