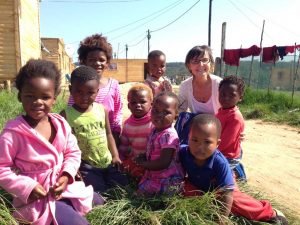 When we first heard we were approved as foster parents it was the best news we could have received.  We dreamed of the day when we would get the call that the DSD had children that needed to be placed in our care.  That call came on March 14, 2016.  Our social worker told us that they had two sisters who needed foster care placement.  At first we were told the sisters were 3 and 9 years old.  I remembered back to a dream the Lord gave me more than a year prior where I saw an older girl holding the hand of a younger girl in my dream. Little did I know these sisters would be our first two children to come into care.
We were asked if we could initially meet the social worker and the older sister at her school on Wednesday the 16th and the younger sister at the children's shelter in a local township.  We were so excited as Wednesday approached and we nervously waited to meet the social worker at the school.  She prepped us in what was about to take place.  She would go in and get the older sister and have her come out to meet us in the parking lot.  As we were discussing her situation, her age went from 9 years old to the social worker telling us she was 11 years old and by the time she walked out to meet us, she informed us she was 13 years old.  Wow, ok, so in less than a couple of weeks time, she aged 4 years, because thats how we roll here in S. Africa.  As she approached us she seemed shy but excited.  The social worker introduced us and we all greeted each other, nervously.  As we stood talking for a few minutes, the social worker then proceeded to ask if she understood that the James family would be her and her younger sister's foster parents?  She said she understood and then the social worker asked if she would like to be a part of our family and she also answered, "Yes" with a big smile.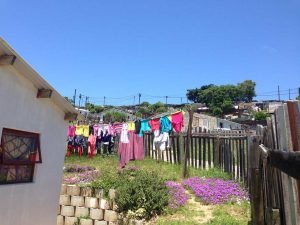 As we exchanged pleasantries and began to talk with her a bit we asked if Jordan could take a picture as our boys were so excited to see a picture of their new "sisters."  Stephen moved away from the two of us as I reached to put my arm around her, not knowing how she would feel about an unknown male wrapping his arms around her right off the bat, but right before Jordan snapped the picture she motioned for Stephen to come stand with us as if to say, "We're a family now, come on and get in the picture." It was a sweet moment for us all.  We left there to go and visit the younger sister who was waiting to meet us as well.  One of the workers carried her out and told us she wasn't 3 either, she was 5 years old.  I knew when I saw her, she was supposed to be ours.  Something in her eyes told me she felt the same. I asked if I could hold her and she immediately wrapped her arms around me as if she'd been waiting on us the whole time.  I fought back the tears as my heart was full to have the opportunity to meet them before they were to come to our house on the 25th for a 5 day visitation.
As the 25th approached, I admit I had a sinking feeling in my spirit that something would hinder their initial visit.  We got a call from the social worker on Tuesday the 22nd apologizing that in the process of filling out all their paperwork, the surname of one of the girls was different on her birth certificate and they needed to go back to the magistrate to be sorted.  We were crushed to say the least, we had moved Sterling out of his room into Preston's room and changed Sterling's room to the girls room, through the generous donation of the 100's club in George.  We were so disappointed as the girls were also.  Shortly thereafter, we also received news that the social worker at the children's shelter had retired and the new social worker wouldn't be taking over until June 1.  So, for now, we walk by their room, and dream of the day they are home with us for good.  We have faith that God gave us a dream and he will fulfill it.